The First Wives Club! sorry The Title (above)Isn't very good, I messed it up! Oh well!:o)
This page is going to be dedicated to "The First Wives Club" (if you already hadn't off guessed).
Main Characters
Brenda Morelli: Bette Midler
Annie MacDuggan Paradise: Diane Keaton
Elise Elliot Actison: Goldie hawn
This Star movie also includes: Maggie Smith, Sarah Jessica parker, Heather Locklear, Rob Reiner and Ivana Trump.
Interesting Fact: The choreographer, who did "You don't own me" was the choreographer for "Grease".

Bette, Diane and Goldie.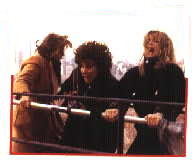 My fave Part - I die Laughing!!
Lots more to come...